Automatic Pouch Layer/Loader Machine DDG200
DDG200 Pouch Layer Machine/Pouch Loader Machine is a zigzag loader machine use in instant noodles factory, It's a corollary equipment of automatic pouch dispenser.
Specification: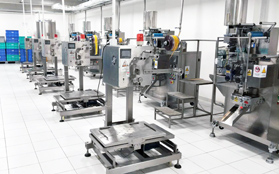 Max Capacity: 200pcs/min
Size for sachet:
Length: 30~120mm
Width: 30~100mm
Thickness: 2~25mm
Power: 220V AC single-phase 50/60HZ 600W
Overall dimension: 930(L)×780(W)×1600(H)mm
Weight: 130KG

Application:
Automatically arraying, laying the powder bags, oil bags, vegetable bags etc from output of hi-speed sachet packaging machine.
Features:
Efficiency: Automatically arraying, layingand feeding the sachets, max capability 200 pouches per minute.

Wide Application: Easy adjust to meet difference sachet, and put sachet in order.

Health: Machine laying to avoid touch foodby hand, complied with hygiene requirements.
Size for Box:
L:450-600mm,W:350-450mm,H:200-400mm。
Main Material: SUS304
It's a corollary equipment with Pouch Dispenser in the instant noodle packing line. We recommand our High speed & Large Capacity Pouch Loader, the speed is up to 500pcs/min, and the capacity is up to 10 times than DDG200 pouch loader machine.